Research on youth sexuality

NEWS

Human Rights Watch completes 2 year study critical of JSO registry laws
Dr. Keith to air Garrett Daley story
Genarlow Wilson appeal rejected
International human rights organization begins investigation of U.S. sex offender policy
Organization protests Indianapolis treatment facility
---
Human Rights Watch completes 2 year study critical of SO registry laws
Sept. 12, 2007 -- Human Rights Watch released the first comprehensive study of US sex offender policies, their public safety impact, and the effect they have on former offenders and their families. During two years of investigation for this 146-page report, Human Rights Watch researchers conducted over 200 interviews with victims of sexual violence and their relatives, former offenders, law enforcement and government officials, treatment providers, researchers, and child safety advocates. They concluded that public registration, community notification laws, and residency restrictions may not protect children from sex crimes but do lead to harassment, ostracism, and even violence against former offenders.

The report states: "people who have not committed violent or coercive offenses may nonetheless be required to register as sex offenders and be subject to community notification and residency restrictions. For example, in many states, people who urinate in public, teenagers who have consensual sex with each other, adults who sell sex to other adults, and kids who expose themselves as a prank are required to register as sex offenders...

"Registrants and their families have been hounded from their homes, had rocks thrown through their home windows, and feces left on their front doorsteps. They have been assaulted, stabbed, and had their homes burned by neighbors or strangers who discovered their status as a previously convicted sex offender. At least four registrants have been targeted and killed (two in 2006 and two in 2005) by strangers who found their names and addresses through online registries. Other registrants have been driven to suicide, including a teenager who was required to register after he had exposed himself to girls on their way to gym class. Violence directed at registrants has injured others. The children of sex offenders have been harassed by their peers at school, and wives and girlfriends of offenders have been ostracized from social networks and at their jobs."

The full report can be found here.



---

Dr. Keith to Air Garrett Daley Story

Jan. 4, 2007 -- The Dr. Keith Ablow Show will devote an entire hour to the story of Garrett Daley, who was wrongfully accused of sexual abuse when he was 13. He was subjected to aggressive prosecution by the Maricopa County (AZ) Attorney's office, and he and his family faced the consequences of Arizona's harsh sex offender laws. This extremely compelling story is scheduled to air on Tuesday, January 9. Times and channels can be found at the Dr. Keith website.



---
Genarlow Wilson Appeal Rejected



May 2, 2006 -- The Georgia Court of Appeals has rejected Genarlow Wilson's legal appeal. Wilson was sentenced to 11 years in prison for consensual sex at age 17 with an underage girl. His legal team is now preparing a Motion to Reconsider. Wilson's case was part of the reason the Georgia legislature enacted a provision making consensual sex by a juvenile with someone at least 14 years old a misdemeanor rather than a felony, and exempting the juvenile from the sex offender registry.
---
International Human Rights Organization Begins Investigation of U.S. Sex Offender Policy

HUMAN RIGHTS WATCH--Human Rights Watch is the largest international human rights organization in the United States, documenting human rights abuses in every region of the world, publishing in-depth reports on those abuses, and advocating for change. HRW's US Program is currently conducting research about state sex offender registries, specifically focusing on how broad the registries are, and the effect that widespread community notification has on the ability of registered sex offenders (RSOs) to find a place to live free from harassment and acts of vigilantism. To get a sense of the arguments that HRW will be making, see the Op Ed piece that was published in the San Francisco Chronicle in January 2005.

HRW is collecting stories of RSOs who have been targets of community harassment and/or threats of violence, and RSOs who have been turned away from housing because of discrimination by landlords, zoning regulations, or any action taken by local officials (including law enforcement).


The organization is also looking for cases where people have been classified as sex offenders and forced to register because they committed non-violent or consensual acts that are defined under state law as sex offenses.


Those who have experienced such actions are asked to contact Corinne A. Carey, researcher, US Program, Human Rights Watch, at 212-216-1298, by e-mail at careyc@hrw.org, or by postal mail at Human Rights Watch, 350 Fifth Avenue, 34th Floor, New York, New York 10118. For more information about Human Rights Watch, readers can visit the HRW website at www.hrw.org

Human Rights Watch is very concerned about the confidentiality and safety of their witnesses. The organization does not use real names in reports, unless cases are widely known to the public or there is some other compelling reason as identified by witnesses.
---
Organization protests Indianapolis treatment facility

FAMILIES AND CHILDREN EXPLOITED SEXUALLY--Families and Children Exploited Sexually (FACES) is a group consisting of families of children who have been treated at Resolute and Resource Treatment Facilities in Indianapolis. Children and parents report that staff at these privately owned juvenile sex offender treatment centers routinely use emotionally and physically abusive practices on their patients. FACES held a protest in front of Resolute on April 30, 2005 during the center's visting hours. The group's leader, Janet Boeldt, grandmother of a boy treated at Resolute, reported that 20 members of the group particpated in the protest. They were unable to speak with visitors to the center because staff told visitors to remain in the building until the protesters left.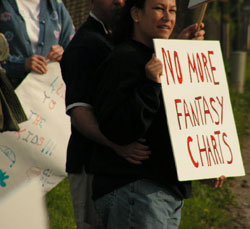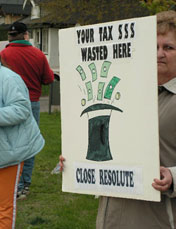 Protesters object to abusive practices at Resolute, inluding the requirement that
children turn in daily descriptions of deviant fantasies and masturbation habits.